Luxurious Residences, The American Way
Published: 5/29/2015
Source: Le Figaro
---
The New York market attracts the wealthiest of this world. And the prices are going up.
The luxury real estate market is doing well in Manhattan. Very well. The city remains, with London, where wealthy from around the world need to have a pied-a-terre. It also reassures many buyers from emerging countries that to invest in American property is to put their money away from monetary or political turmoil of their country of origin. But where does American luxury start? Over $ 3.5 million, according to Corcoran brokerage, the luxury real estate specialist on the East Coast which recently signed an agreement with the John Taylor international real estate firm. The luxury market represents the top 10% of sales in Manhattan. In this niche, the average sales reached $7.2 million in the first quarter. The ultimate, most expensive properties offer direct views of Central Park, the green lung of New York. But new penthouses downtown (in the lower part of the city) compete with panoramic views. There, prices can soar like towers that rival for being the tallest in the city. A dozen are under construction or just out of the ground. One of them will be the highest. The best-known architects are sought by developers who thus offer their talent, but also their reputation. The French Jean Nouvel and Christian de Portzamparc are both in it. In one of the residential towers of the most iconic luxury (220 Central Park South), opposite the park, prices range from 15 million to $ 150 million for the penthouse. Delivery in 2017. And a third of the apartments have already been sold.
But these new constructions are not the only ones to show stratospheric prices and breathtaking views . The duplex of Tommy Hilfiger , across from Central Park, offers another option.
Entering the Plaza building, one is announced by the concierge, slipping into the elevator and opening the door into the penthouse of the designer is, admittedly, a delightful experience. Inside the apartment, one has entered a dream mansion that has been completely renovated. Deco lines, white sofas, fine linens, Warhols on the wall, a round room dedicated to children with drawings of Eloise, beloved storybook character of American children, we almost leave reality. The terrace and the dome with tile glazed complete the seduction. We quickly return to reality by becoming aware of the asking price, $ 75 million (€ 68 million) for this duplex of 565 m2 potentially sold furnished, but without artwork. What also defines the luxury in the US, it is the quality of service in these luxury condos. Concierges appropriate for big hotels, security, spas, everything is planned, these buildings offer a level of service uncommon in Europe. As such, the Hilfiger penthouse has access to all the services of The Plaza Hotel.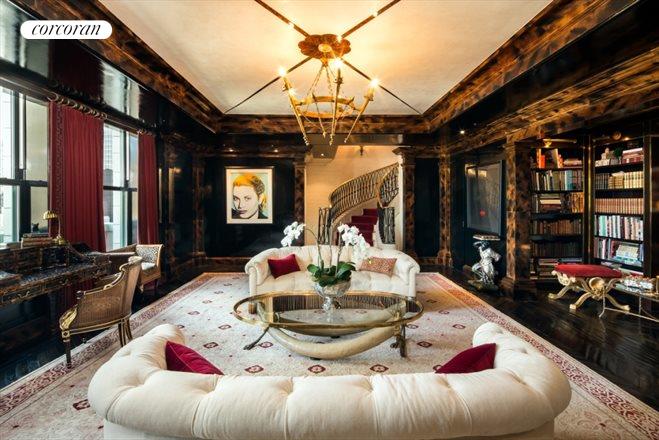 1 Central Park Penthouse 1809 Living Room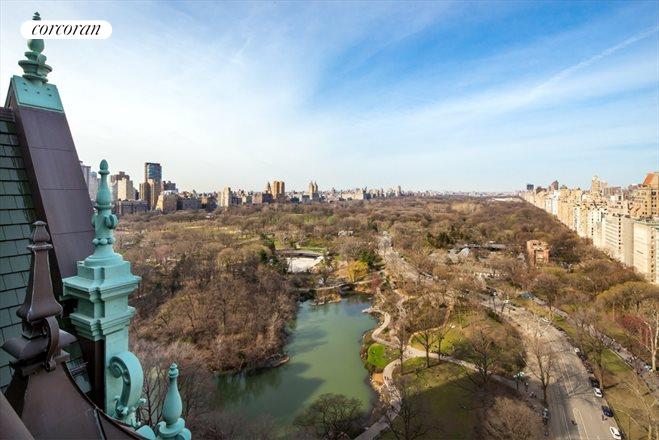 1 Central Park South Penthouse 1809 Terrace
Fascinating, full of energy, constantly changing, for sure, New York has pep. Still, some dream of escaping each weekend to find their country house. It is smart, then, to head to head out to the Hamptons, two hours from Manhattan. This is where New Yorkers luckiest spend their weekends with the arrival of sunny days. And prices in this universe that mixes country and beach, have nothing to envy to those of the Big Apple. Since the beginning of the year, four sales of more than $ 20 million were done. The former home of Vince Camuto, the creator of Nine West shoe brand, who recently passed away, is selling for $85 million. Not far from the beaches and ocean breezes, a grand and chic family home. And the pool, with an air of Italy, perhaps remembers the origins of the Patriarch.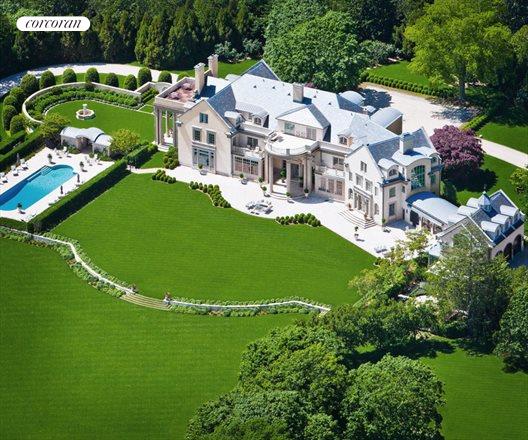 51 Halsey Lane, Southampton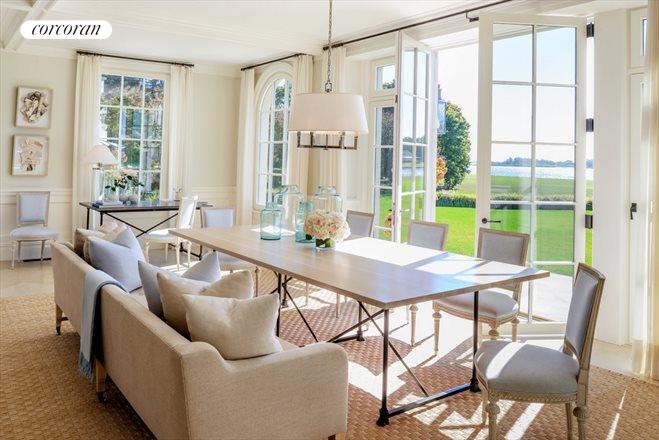 51 Halsey Lane – Kitchen Dining Room
TRANSLATION
Le marché new-yorkais attire les fortunes du monde entier. Et les prix s'envolent.
Le marché immobilier haut de gamme se porte bien à Manhattan. Très bien même. La ville reste, avec Londres, celle où les grandes fortunes du monde entier se doivent d'avoir un pied-à-terre. Elle rassure aussi de nombreux acheteurs de pays émergents qui investissent dans la pierre américaine pour mettre leur argent à l'abri de turbulences monétaires ou politiques de leur pays d'origine. Mais où commence vraiment le luxe à l'américaine?? Au-dessus de 3,5 millions de dollars, selon le broker Corcoran, spécialiste de l'immobilier haut de gamme sur la côte Est qui a récemment signé un accord avec John Taylor. Ce qui représente 10 % des ventes à Manhattan. Sur ce créneau, la vente moyenne atteignait 7.2 millions de dollars au premier trimestre. Le nec plus ultra, les adresses les plus chères offrent des vues directes sur Central Park, le poumon vert de New York. Mais les nouveaux penthouses de downtown (dans la partie basse de la ville) et leurs vues panoramiques les concurrencent. Là, les prix peuvent s'envoler comme les tours qui rivalisent de hauteur. Une douzaine sont en construction ou tout juste sorties de terre. C'est à qui sera la plus haute. Les architectes les plus connus sont recherchés par des promoteurs qui s'offrent ainsi leur talent, mais aussi leur notoriété. Les Français Jean Nouvel et Christian de Portzamparc en font partie. Dans l'une des tours résidentielles de luxe les plus emblématiques (220 Central Park South), face au parc, les prix vont de 15 millions à 150 millions de dollars pour le penthouse. Livraison prévue en 2017. Et un tiers des appartements ont déjà été vendus.
Mais ces nouvelles constructions ne sont pas les seules à afficher des prix stratosphériques et des vues à couper le souffle. Le duplex de Tommy Hilfiger, face à Central Park, offre une autre option.
Entrer dans l'immeuble du Plaza, s'annoncer au concierge, se glisser dans l'ascenseur et pousser la porte du penthouse du créateur est, il faut le reconnaître, une expérience délicieuse. Dans l'appartement lui-même, on plonge dans l'univers du maître de maison qui l'a entièrement rénové à sa mesure. Déco tirée au cordeau, canapés blancs, linge de maison raffiné, Warhol au mur, pièce ronde dédiée aux enfants avec des dessins d'Eloise, personnage chéri des petits Américains, on se laisserait presque prendre au jeu. La terrasse et le dôme aux tuiles vernissées achèvent l'opération séduction. On revient vite à la réalité en prenant conscience du prix demandé, 75 millions de dollars (68 millions d'euros) pour ce duplex de 565 m2, mais sans les œuvres d'art. Ce qui fait aussi le luxe à l'américaine, c'est la qualité des services dans ces copropriétés de luxe où on reste entre soi. Concierges qui valent ceux des grands hôtels, sécurité, spas, tout est prévu, les immeubles offrent un niveau de services peu courant en Europe. Le penthouse de Tommy Hilfiger donne ainsi accès à tous les services de l'hôtel Plaza.
Fascinante, pleine d'énergie, en mutation constante, c'est sûr, New York a du peps. Pourtant, certains rêvent de s'en échapper chaque fin de semaine pour retrouver leur maison de campagne. Il est alors de bon ton de prendre la direction des Hamptons, à deux heures de Manhattan. C'est là que les New-Yorkais les plus chanceux passent leurs week-ends dès la venue des beaux jours. Et les prix, dans cet univers qui mêle campagne et iode, n'ont rien à envier à ceux de la Grosse Pomme. Depuis le début de l'année, quatre ventes à plus de 20 millions de dollars ont été conclues. La maison de Vince Camuto, le créateur de la marque de chaussures Nine West, disparu depuis peu, est ainsi à vendre 85 millions de dollars. Non loin des plages balayées par le vent, cette gigantesque maison de famille a du chic. Et la piscine, un petit air d'Italie, souvenir peut-être des origines du patriarche.