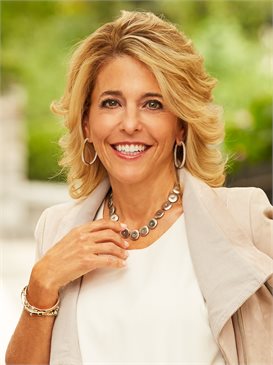 Pamela Liebman joined Corcoran as an agent in 1984, at the age of 23. With a string of headline-worthy deals, she promptly established herself as an A-lister in the New York City real estate scene, becoming a sales manager within months and, in 1990, a partner in the company. In 1995, Pamela created the Corcoran Group Marketing division, focused on new developments, which in 2005 joined forces with the Sunshine Marketing Group to become the industry-leading Corcoran Sunshine Marketing Group. In 2000, she stepped up as Corcoran's President and Chief Executive Officer, leading the brand into the Hamptons and South Florida. And in 2019, she crafted Corcoran's ambitious affiliate strategy, putting in motion what has since become one of the real estate industry's most extraordinary franchise success stories.
Pamela's keen eye for real estate talent and remarkable ability to anticipate trends has earned her continual recognition from The Wall Street Journal, The New York Times, The Financial Times, and Crain's New York Business, where she's been a fixture on the magazine's biennial list of the most powerful women in New York City since its inception in 2007.
Career Milestones
Founded Corcoran Group Marketing, the first New York new development sales and marketing firm followed by acquisition of The Sunshine Group to create Corcoran Sunshine Marketing Group, the leading marketing and sales agency for luxury condominium projects in the United States.
Negotiated the successful acquisition of The Corcoran Group by NRT, the nation's largest real estate brokerage and a subsidiary of Realogy Corporation.
Spearheaded the expansion of Corcoran into key luxury markets in the Hamptons and South Florida, and expanded Corcoran's global presence through a strategic alliance with Monaco-based international luxury real estate firm, John Taylor.
Led the acquisition of Citi Habitats, the largest residential rental firm in New York City.
Negotiated the Related Companies and Corcoran Sunshine Marketing Group partnership to market and sell Related Companies Hudson Yards residential collection, part of the largest, most prestigious real estate development project in the history of the United States.
Annually recognized as one of the Top 50 Most Powerful Women in New York by Crain's New York Business, by Inman as a Top 101 Real Estate brokerage firm executive, in Women Worth Watching by Profiles in Diversity Journal and HousingWire Women of Influence, The Observer NYC Power 100, among many others.
Regular source and contributor to global media coverage of the real estate industry by The New York Times, The Wall Street Journal, Bloomberg, Forbes, CNN, MSNBC, Fox Business, PBS, National Public Radio, among other national and global media networks.
REBNY The Kenneth R. Gerrety Humanitarian Award Jewish National Fund Tree of Life Award Randall's Island Sports Foundation Honoree New Jersey Golf Foundation Chairman's Award
Professional Affiliations
YPO Big Apple Gold Partnership for New York City Women's Forum of New York REBNY Executive Committee and Board of Governors
Philanthropic Affiliations
American Cancer Society's CEOs Against Cancer Wipe Out Leukemia Forever Foundation (founding board member) USS Intrepid Foundation Board BASF Inner City Scholarship Fund
In riveting reversal, Manhattan tallies record year for real estate

Read more

Sales of Manhattan condos and co-ops surge to highest fourth quarter total in 32 years

Read more

The 49 Most Fascinating, Mind-Blowing, Challenging, Hilarious, and Urgent Titles of the Year

Read more
Read All Press Mentions