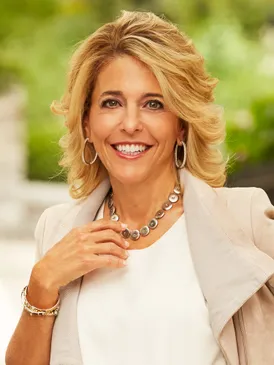 Pamela Liebman joined Corcoran as an agent in 1984, at the age of 23. With a string of headline-worthy deals, she promptly established herself as an A-lister in the New York City real estate scene, becoming a sales manager within months and, in 1990, a partner in the company. In 1995, Pamela created the Corcoran Group Marketing division, focused on new developments, which in 2005 joined forces with the Sunshine Marketing Group to become the industry-leading Corcoran Sunshine Marketing Group. In 2000, she stepped up as Corcoran's President and Chief Executive Officer, leading the brand into the Hamptons and South Florida. Responsible for some of the most high-profile Manhattan new development projects in the history of New York City, including personally overseeing the record-setting sales at 220 Central Park South, Pamela cemented her position as one of the most discerning visionaries in New York City real estate. With her strategic direction, Corcoran has achieved record sales that have reached more than $23 billion annually. In 2019, she crafted Corcoran's ambitious affiliate strategy, putting in motion what has since become one of the real estate industry's most extraordinary franchise success stories. Recognized as Realogy's fastest growing brand, Corcoran's affiliate network spans the length of the United States and marked its one-year anniversary with the launch of Corcoran's first global franchise in the British Virgin Islands. Pamela's keen eye for real estate talent and remarkable ability to anticipate trends has earned her continual recognition from The Wall Street Journal, The New York Times, The Financial Times, and Crain's New York Business, where she's been named one of the Top 50 Most Powerful Women in New York for the past several years. Born in New York City, Pamela studied at the University of Massachusetts, Amherst, as well as the European Business School in London. She is a member of the Young Presidents' Organization, The Committee of 200 and the Partnership for New York City. Pamela also serves on the Board of Directors for The Bass Museum, the Mount Sinai Medical Center Foundation's Executive Committee and the Real Estate Board of New York's Executive Committee and Board of Governors.
Career Milestones
Founded Corcoran Group Marketing, the first New York new development sales and marketing firm followed by acquisition of The Sunshine Group to create Corcoran Sunshine Marketing Group, the leading marketing and sales agency for luxury condominium projects in the United States.
Negotiated the successful acquisition of The Corcoran Group by NRT, the nation's largest real estate brokerage and a subsidiary of Realogy Corporation.
REBNY The Kenneth R. Gerrety Humanitarian Award Jewish National Fund Tree of Life Award Randall's Island Sports Foundation Honoree New Jersey Golf Foundation Chairman's Award
Professional Affiliations
YPO Big Apple Gold Partnership for New York City Women's Forum of New York REBNY Executive Committee and Board of Governors
Philanthropic Affiliations
American Cancer Society's CEOs Against Cancer Wipe Out Leukemia Forever Foundation (founding board member) USS Intrepid Foundation Board BASF Inner City Scholarship Fund